PREDICT Field Program
The PREDICT project (Pre-Depression Investigation of Cloud-systems in the Tropics) has as its purpose to understand why some tropical atmospheric disturbances intensify into tropical storms and others do not. A New Mexico Tech team including graduate student Saska Gjorgjievska, Research Physicist Carlos Lopez, and myself are involved in this project, the field phase of which runs from 15 August to 30 September 2010. The field program is strategically located for the study of Atlantic tropical cyclogenesis on the island of St. Croix, a part of the U. S. Virgin Islands. The primary tool in this study is the Gulfstream V (G-V) aircraft (shown below) owned by the U. S. National Science Foundation and operated by the National Center for Atmospheric Research.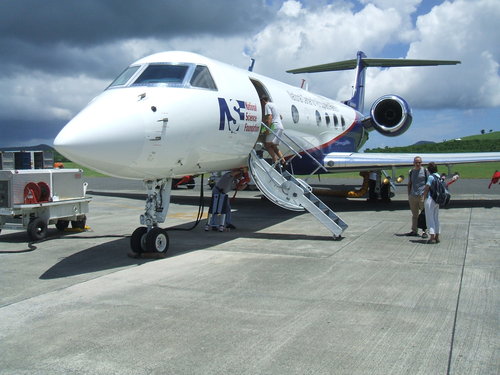 This page presents a running commentary on the field program as it developed. Thanks to the National Hurricane Center, the Naval Research Laboratory, and the National Environmental Satellite, Data, and Information Service for their satellite images and other graphics. This work was supported by the U. S. National Science Foundation.
Dave Raymond